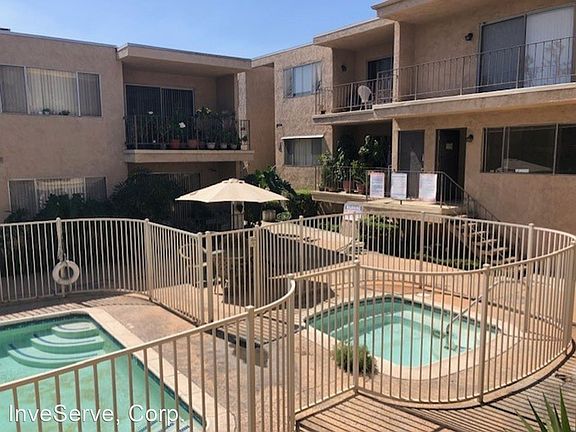 Coming Soon, Large 2 Bedroom, 1.5 Bath with 2 balconies in Monterey Park! - This two bedroom + 1.5 bathroom apartment is incredibly spacious. In unit features include central AC and heating, gas stove, dishwasher and two balconies! Our apartment's location is in the center of it all. 401 N. Baltimore is located directly behind Garfield Medical Center in Monterey Park. This is a gated community with a swimming pool, assigned parking, and an on-site laundry room. Nestled in the San Gabriel Valley, Monterey Park is just eight miles east of Los Angeles. The commercial districts on Garfield Boulevard with Hospital near by, restaurants specializing in Asian cuisine, along with markets, shops, and salons are easily walking distance. Several parks in town offer residents a peaceful reprieve from busy modern life. Monterey Park residents enjoy relaxing and engaging in outdoor recreation at Barnes Park, Sequoia Park, and Garvey Ranch Park. Lively events draw the community together in Monterey Park, including the Cherry Blossom Festival, Geranium Festival, Cinco de Mayo Celebration, and Lunar New Year Festival. Convenient freeway access brings Monterey Park residents to the many amenities of Downtown Los Angeles in 15 minutes. No Pets Allowed (RLNE5300225)Read moreSwimming poolGarfield boulevardCommercial districtsGeranium festivalAsian cuisineAssigned parkingSan gabriel valley
Los Ángeles es una ciudad próspera y vibrante con una alta calidad de vida, vecindarios eclécticos que ofrecen experiencias, cultura, diversidad y comodidades de clase mundial únicas en Los Ángeles para los asistentes a las reuniones. También es una ciudad segura y acogedora con una amplia red de transporte, una próspera zona del centro y muchos aeropuertos de fácil acceso para los clientes. Aquí hay algunas cosas que todo planificador debe saber al considerar Los Ángeles para un evento. Los Ángeles es una ciudad en expansión del sur de California y el centro de la industria del cine y la televisión del país. Cerca de su emblemático letrero de Hollywood, estudios como Paramount Pictures, Universal y Warner Brothers ofrecen recorridos entre bastidores. En Hollywood Boulevard, el TCL Chinese Theatre muestra las huellas de manos y pies de celebridades, el Paseo de la Fama rinde homenaje a miles de luminarias y los vendedores venden mapas a los hogares de las estrellas.
Los Ángeles es la capital mundial del entretenimiento y ofrece innumerables atracciones y actividades: estudios de cine, Sunset Strip, Venice Beach, museos emblemáticos, parques temáticos de fama mundial, bodegas, cervecerías, actividades al aire libre, una excitante vida nocturna y mucho más. Entonces, hay mucho que hacer una vez finalizada la reunión de negocios. El mayor atractivo en Los Ángeles para los visitantes de reuniones es L.A. LIVE, un complejo deportivo y de entretenimiento de $ 2.5 mil millones en el extremo sur del centro de la ciudad, ubicado junto al STAPLES Center y el L.A. Convention Center. L.A. LIVE incluye el Microsoft Theater L.A. LIVE de 7.000 asientos; el The Novo de Microsoft con capacidad para 2.300 asientos; una Premiere House de 800 asientos; Target Terrace, un espacio funcional con impresionantes vistas al horizonte; una discoteca con capacidad para 1.000 personas y numerosos restaurantes. Además de las atracciones de entretenimiento de L.A. LIVE, el JW Marriott Los Angeles L.A. LIVE de 54 pisos y The Ritz-Carlton, Los Ángeles ofrecen 1,000 habitaciones para el área del centro. L.A. LIVE también cuenta con una plaza al aire libre de 40,000 pies cuadrados conocida como el "Times Square del Oeste".