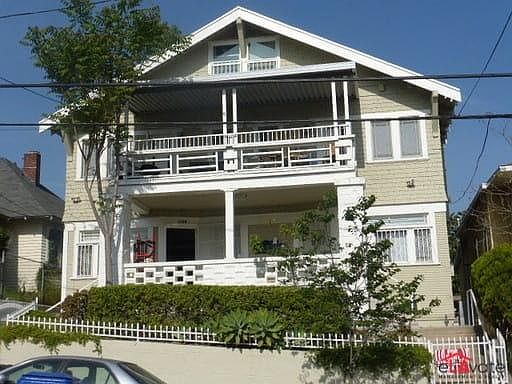 Gorgeous, Large Remodeled, 3 Bedroom/2.5 Bathroom Apartment with Balcony in Korea Town!! Gorgeous, Large Remodeled, 3 Bedroom/2.5 Bathroom Apartment with Balcony in Korea Town!! Available on/around March 10th, 2022!! *3 bedrooms *2.5 Bathrooms (one upstairs and one downstairs) *Wall AC & Heat Units *New Hardwood like Flooring, no carpet *New paint throughout *New stainless steel refrigerator, microwave and gas stove with range *Separate dining room off of kitchen *AC in all upstairs bedrooms *AC in living room *1 Parking Space *Onsite Laundry *New Blinds *Ceiling Fans *Balcony MONTHLY RENT & SECURITY DEPOSIT: Monthly Rent: $3,495.00 Security Deposit: $3,495.00 (On Approved Credit) Minimum one year Lease required. PETS: Dogs/Cats under 30 lbs pounds are welcome with a $500.00 additional deposit. Breed restrictions apply. Limit of 1 pet per apartment. If the apartment or home you are applying for accepts pets, you must complete a pet profile & pet screening application for each pet by visiting the following link: elavate.petscreening.com. This also applies for assistance animal accommodation requests. The pet application fee is $20 for the first pet, $15 for the second pet and $0 (no charge) for assistance animal accommodation requests. UTILITIES: Tenants pays for Electricity, Gas & Trash. Landlord pays for Water & Sewer. PARKING: 1 Parking Space Assigned LAUNDRY: Onsite Laundry **Resident Benefits Package & Renter's Insurance** The Resident Benefits Package is REQUIRED with all eLAvate lease agreements. The Resident Benefits Package will be billed monthly as one $40.00 charge as additional rent to include the renters insurance benefit and the payment & services benefit. Residents should consult an insurance professional to evaluate and determine personal insurance needs. Residents who provide proof of their own renter's insurance policy that is lease compliant may opt out of the insurance benefit and $10.00 will be deducted from the monthly cost of the Resident Benefits Package. **Lease Processing Admin Fee** eLAvate charges a $150.00 non-refundable lease processing administrative fee for all new leases. This covers our cost for providing the service of preparing your online lease agreement for the convenience of electronic signature and setup in our system. HOW TO APPLY & RENTAL APPLICATION REQUIREMENTS: *Completed rental application for each prospective resident 18 years of age or older. *$50 application fee for each application (cash is not accepted). *Valid government issued photo ID. *If you are employed: 3 most recent consecutive pay stubs. Partial screenshots, mobile screenshots and monitor screenshots are not accepted. Only full and complete statements are accepted. 3 most recent consecutive bank statements, all pages even if blank, may be required to document income if your pay stubs do not show the required income. *If you are self-employed, all pages of your two years most recent PERSONAL tax returns (and relevant supporting documentation such as K-1's) and all pages of your three most recent PERSONAL bank statements (business bank statements will not be accepted). Partial screenshots will not be accepted. Business tax returns and business bank statements will not be accepted, only PERSONAL tax returns and PERSONAL bank statements will be accepted. *KNOW BEFORE YOU APPLY* *Please visit the following website to review the Rental application Process & Criteria. Photos in this ad are a representation and may not reflect the actual home that is currently available **PHOTOS COMING SOON** Professionally managed by eLAvate, Inc. If applicant(s) make any derogatory or offensive comments in any way shape or form either verbally or written, and/or act in a threatening, combative, intoxicated or disorderly manner, during any phase of the application process and lease process the application may be denied. This also applies if the lease has been signed and applicants have not yet taken possession of the home/unit. Equal Housing Opportunity Every effort is made to provide reliable and accurate information. However, changes can and do take place to cause inaccurate information to be inadvertently presented. eLAvate encourages all applicants to verify schools, allowable pets, expected features, or any and all concerns prior to submitting an application and signing a lease agreement. Any information posted on this advertisement does NOT constitute a written agreement or guarantee of the facts stated. All application fees are NON-REFUNDABLERead moreTwo storyMobile screenshotsLarge remodeledBathroom apartmentInsurance policyVerify schoolsLease processing admin fee
Los Ángeles es una ciudad próspera y vibrante con una alta calidad de vida, vecindarios eclécticos que ofrecen experiencias, cultura, diversidad y comodidades de clase mundial únicas en Los Ángeles para los asistentes a las reuniones. También es una ciudad segura y acogedora con una amplia red de transporte, una próspera zona del centro y muchos aeropuertos de fácil acceso para los clientes. Aquí hay algunas cosas que todo planificador debe saber al considerar Los Ángeles para un evento. Los Ángeles es una ciudad en expansión del sur de California y el centro de la industria del cine y la televisión del país. Cerca de su emblemático letrero de Hollywood, estudios como Paramount Pictures, Universal y Warner Brothers ofrecen recorridos entre bastidores. En Hollywood Boulevard, el TCL Chinese Theatre muestra las huellas de manos y pies de celebridades, el Paseo de la Fama rinde homenaje a miles de luminarias y los vendedores venden mapas a los hogares de las estrellas.
Los Ángeles es la capital mundial del entretenimiento y ofrece innumerables atracciones y actividades: estudios de cine, Sunset Strip, Venice Beach, museos emblemáticos, parques temáticos de fama mundial, bodegas, cervecerías, actividades al aire libre, una excitante vida nocturna y mucho más. Entonces, hay mucho que hacer una vez finalizada la reunión de negocios. El mayor atractivo en Los Ángeles para los visitantes de reuniones es L.A. LIVE, un complejo deportivo y de entretenimiento de $ 2.5 mil millones en el extremo sur del centro de la ciudad, ubicado junto al STAPLES Center y el L.A. Convention Center. L.A. LIVE incluye el Microsoft Theater L.A. LIVE de 7.000 asientos; el The Novo de Microsoft con capacidad para 2.300 asientos; una Premiere House de 800 asientos; Target Terrace, un espacio funcional con impresionantes vistas al horizonte; una discoteca con capacidad para 1.000 personas y numerosos restaurantes. Además de las atracciones de entretenimiento de L.A. LIVE, el JW Marriott Los Angeles L.A. LIVE de 54 pisos y The Ritz-Carlton, Los Ángeles ofrecen 1,000 habitaciones para el área del centro. L.A. LIVE también cuenta con una plaza al aire libre de 40,000 pies cuadrados conocida como el "Times Square del Oeste".