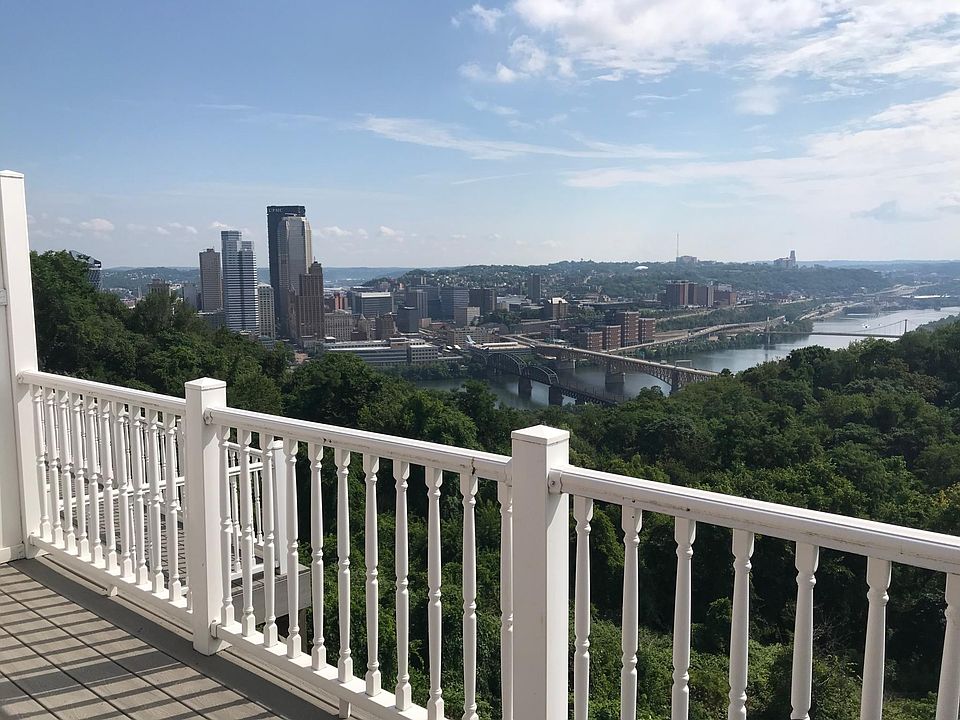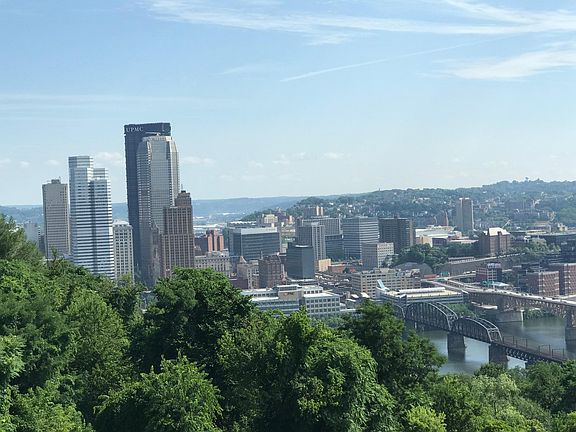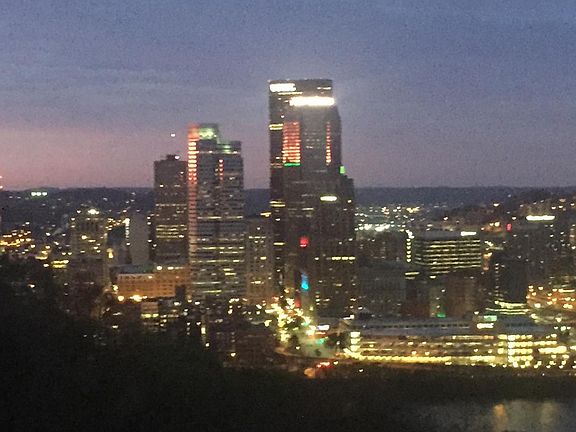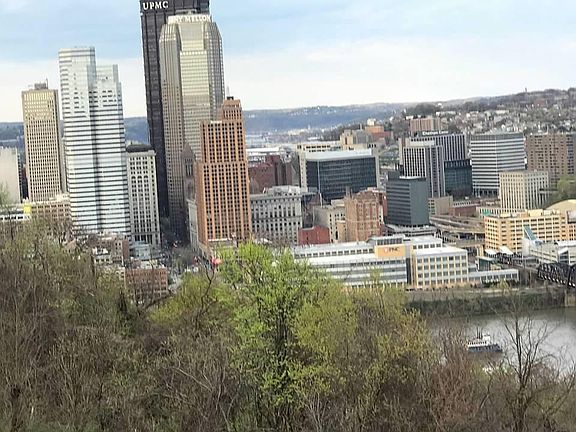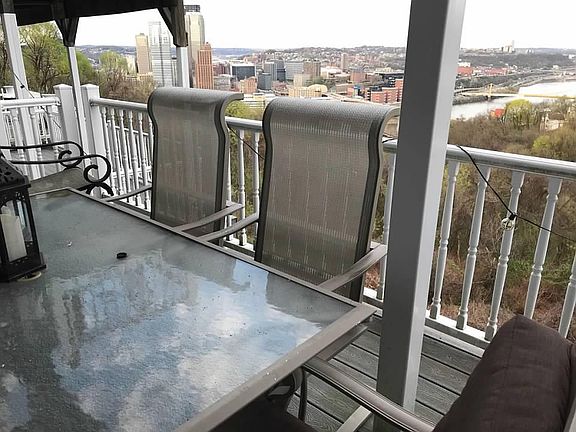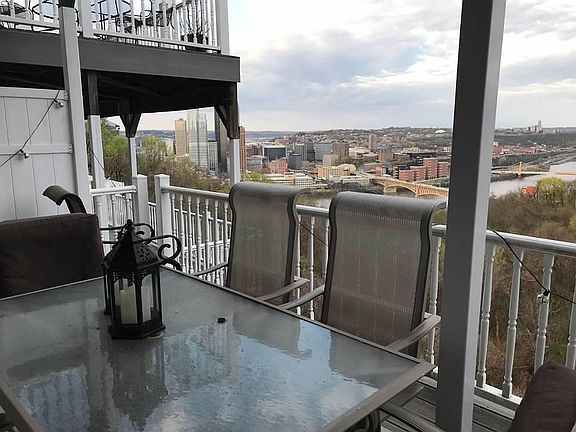 This amazing 3 bed 2 bath + office is available June 1 2022. There is a City View from three large decks Totally updated; ready to move in. Garage space or off street parking options are iavailable. Located on a well maintained vibrate city street you're just steps to the Mon Incline and Shiloh Street Shops and World Famous Grandview Ave. Become part of Pittsburgh Pedestrian Village; from this townhouse you are just steps to Shiloh Street Shops which include Good Wine & Spirit Store, US Post Office, Grandview Bakery, many restaurant including the new Coughlin's Law with out door seating, Florist, Tanning Salon, Hair Salons, Major banks all with ATM, Barber Shops, Carnegie Library, Churches, two gas stations, Shop and Save Grocery Store, Coffee Shop, Ice Cream Shop, Florist, Grandview Bakery and much more. This amazing Four Floor Town house has THREE City-View DECKS . Recently remodeled Kitchen boasts SS Appliances, new cabinets and counter tops, ceramic tile floor ceiling fan and a six foot sliding glass door leading to city view deck. Both Bathrooms have glass showers one is ALL NEW Hardwood Floor in Living Room. Newly installed ultra modern glass remote control fireplace. There are OFF STREET PARKING options; they are not part of the rent but they are available. Central Air and High Efficiency Gas Furnace Newer Washer & Dryer in unit New Bathroom with Luxury Vinyl flooring and LVF in downstairs bedroom. High Ceilings with Ceiling Fans Hardwood floor in living room There is a den/ office in the second d floor. Perfect if you're working from home. Newly remodeled spacious Downstairs Bedroom with Luxury Vinyl flooring, new closet, new outlets added, high ceilings with ceiling fan plus a brand new bathroom with the same luxury vinyl wood plank flooring; large shower with glass sliding doors, new toilet and new cabinet, sink, faucet and medicine cabinet with 3 way mirror. The laundry room is on this floor equipped with Whirlpool washer and dryer. This floor also has its own deck with city view. High Ceilings Ceiling Fans Two Full Bathrooms SECOND FLOOR MASTER BEDROOM has Sliding Glass Door with City View New Composite Deck, double rod closet plus a shoe closet. Ceiling fan is remote control with a remote dimmer switch for the light. LOFT BEDROOM is the entire top Floor. Newer wall to wall carpeting, both wi does are low e glass energy efficient. This room has its own heat and AC system. Spacious House Lots of Storage New Low E Glass Windows New Gas Hot Water Tank Located on a well maintained vibrate city street, you are just steps the Shiloh Street Shops with many restaurants with patio seating, Good Wine and Spirit Store, US Post Office, Florist, Grandview Bakers, Shop and Save Grocery Store, Coffee, Shop, Ice Cream Shop, and much more. Also just steps away is the Mon Incline and World Famous Grandview Ave. the Commute to work downtown is just a matter of a few minutes walking, Mon Incline, and Subway into downtown Please call or text to arrange an time to see this amazing townhouse. I will post more pictures asa There are three parking options, you can park on the street for FREE, or you can rent a parking pad which gives you two spaces for $150 per month, or rent a garage space with a remote control which is $150 per car per month. This is a Non-Smoking, No Pets Property A credit check is required with a score of 700 or above. There is a $30 credit check fee your score needs to be 700 or above. This is also Non Smoking No Pets quiet property.Read more
Pittsburgh was founded on November 27, 1758. The city was named by General John Forbes, in honor of British statesman William Pitt, the 1st Earl of Chatham. Early on, Pittsburgh played an important role in our country's history. In the early 1800s, the city became known as the "Gateway to the West." This nickname referenced the huge advantage Pittsburgh had by having the intersection of three major waterways. The Allegheny River and Monongahela River join together at what is known as the "point" to form the Ohio River. This intersection opened the gates for Pittsburgh to lead the way in the trade industry for products such as coal, timber, glass, natural gas, iron and limestone. By 1911, Pittsburgh manufactured half of the nation's steel. Due to the amount of pollution given off by the steel factories the city had a new nickname - "The Smoky City."
Throughout the years, Pittsburgh has made multiple changes and overcome many obstacles. The city has moved from the steel industry to become a leader in healthcare, education, technology, and financial services. What were once heavily polluted streets and riverfronts, have been transformed to create the modern vibrant Pittsburgh one sees today.